The Andros Hotel

Claremont, Cape Town
The Andros Boutique Hotel in Cape Town is a five star accommodation venue, ideally located in Claremont, one of Cape Town's beautiful Southern Suburbs.
Set against the backdrop of Table Mountain, the Andros is beautifully built within 5000m2 of magnificent park-like gardens. It is a truly gracious Cape Colonial homestead, originally built in 1908 and designed by Sir Herbert Baker.
The Andros Hotel at a Glance
Accommodation: 13 Rooms

2 Standard Rooms
10 Deluxe Rooms
1 Executive Suite

Guest Amenities - Yes (Charlotte Rhys)
Air-Conditioning - Yes, Hot & Cold
Under floor heating - Yes
Flat Screen Televisions - Yes
Satellite Television - Yes, selection of 12 channels
Mini Bar Fridges - Yes
Hairdryers - Yes
Tea & Coffee Making Facilities
Laundry Service - Yes
Internet Access - Yes, Complimentary
Computer - A desk top system is located in the drawing room and can be used by guests via arrangement with reception
International Plug Adaptors - Available from Reception
Digital Mini Safes - Yes
Drawing Room - Yes
Lounge - Yes
Restaurant - Yes
Well stocked Bar - Yes
In-Room Dining / Room Service - Yes
Swimming Pool - Yes
Gymnasium & Sauna - Yes
Beauty Salon - Yes
Conference Facilities - Yes, up to 30 guests seated 'cinema style'
Secure Parking - Yes, for up to 20 vehicles
This Deluxe Boutique Hotel has 13 rooms and offers all of the facilities and luxuries typically expected of a deluxe 5 star hotel - these include air-conditioning, under-floor heating, a Platinum Award winning restaurant, a well stocked bar with extensive selection of wines, Room Service, comfortable Drawing Rooms and Lounges, Flat Screen Televisions, Selection of Satellite Television Channels, Digital Mini Safes, Mini Bar Fridges, Tea & Coffee Making Facilities, Charlotte Rhys Guest Amenities, Towelling Gowns, Complimentary WiFi Access and exceptional Conference facilities. The Andros further boasts a Swimming Pool, well equipped Gymnasium and Sauna as well as a beauty salon with skilled beauty therapists and two treatment rooms.

The hotel boasts 10 deluxe suites, eight of which are set in the hotel's magnificent park-like gardens. These exceptionally spacious bedrooms each offer their own private verandah area. The Executive suite offers its own private entrance, wonderful living area and its own private swimming pool, while the remaining four original bedrooms are located in the majestic Manor House offering superb views of the gardens and Table Mountain. All the rooms are elegantly furnished in a style typical of a grand and gracious English Manor.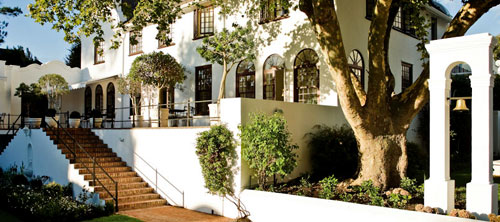 The Andros Hotel offers flexible and adaptable layouts, being ideally suited for: Board Meetings, Conferences/Lectures, Private luncheons or dinners, Presentations, Intimate weddings and Product launches. The magnificently appointed Herbert Baker Room is equipped with air conditioning - heating and cooling and easily accessible cloakrooms. The venue offers plenty of natural light with doors opening onto the beautiful gardens and offering views of Table Mountain and Kirstenbosch Gardens. The Hotel is also able to accommodate 'breakaway' groups in the Drawing and Sun rooms.

The Andros is ideally located about a 5 minute drive from the iconic Newlands Rugby and Cricket Stadiums and is equally close to many of the financial sector corporate offices in the area. Most of Cape Town's leading schools (Bishops, SACS, Western Province, Wynberg, Rustenberg Girls, Herschel, Westerford, Rondebosch Boys and San Souci) are also within a five to ten minute drive. The University of Cape Town or UCT is also very close by.