Fire & Ice Hotel

Cape Town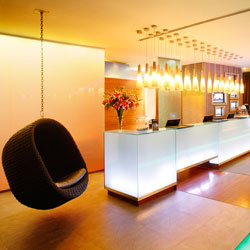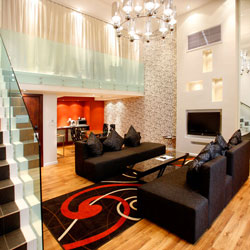 If you're looking for something different, you've definitely come to the right place. We'll have you climbing the walls ... no, really, there's a 5 storey climbing wall on the outside of the building. Hang around in our reception area (literally) ... we have a hanging chair for those who really like to "hang around".
Swim around our restaurant ... the glass walls between our restaurant and pool, along with the fantastic lighting, definitely draw a lot of interest. In short, stay with us and go with the flow. Whatever your heart desires, you'll find it here or we'll find it for you. Fire & Ice Hotel Cape Town offers you a place to chill, a base from which to explore and a friendly place to call home at the end of each day.
Fire & Ice Hotel
Hotel Rooms
Fire & Ice Hotel Cape Town boasts 130 hip and happening rooms, each with in-room shower (yup, that's right, forget the en-suite, in-suite is the new thing. Don't worry, the toilet is still en-suite and we hope that that never changes.) We know that not many people get too excited about rooms (except the honeymooners), because there are so many other places you want to be when you get to vibey Cape Town, but most people at least want to know what facilities the room has. So, here goes the boring info stuff:
Each of the 130 bedrooms has:
A King Size bed or two single beds

Bose Alarm clock radio

A large Executive Desk with international electrical points and wireless internet connections

An LCD flat screen television

Tea/Coffee facilities

Air conditioning

Telephone (you expected that one, didn't you?)

Laptop-friendly safe, with charger

Complimentary limited wireless internet
For those who really like to get into detail, 98 of our rooms are doubles (the ones with those King Size beds) and 32 are twins (not the fraternal kind, the ones with two single beds).
Fire & Ice Hotel
Hotel Facilities
Aha, although we're talking public spaces here, not all of our spaces are all that public. Take, for instance, our Private Sound Room. Now here is a room you don't want to share with the whole world and his father. The Private Sound Room, as its name implies can be hired out privately for your listening pleasure. Get together a group of mates and get blown away by the quality of the Bose Surround Sound speakers situated around the room to give maximum effect. The Sony LCD screen brings your viewing to life, whether it be a wildlife movie, music video or your own private holiday videos. And, because we never grow up, we have the latest in gaming technology with the new X-Box 360.
Now our pool area - that's definitely a public space. The wall between the restaurant and pool is made of glass and is, therefore ... you guessed it ... see-through. We're not sure who is going to get the most entertainment out of the pool, the swimmers ... or the diners, but entertainment there will be. With fantastic underwater lighting and music, the ambiance of both the pool deck and the restaurant will be enhanced, whether there are swimmers or not.
Another fab outside area is A Cup (yeah, we know what you're thinking, but that's not it). We believe in telling it like it is and this structure really looked like a cup, so that's what we called it. A Cup is another "not so public" public space. This area consists of sunken seating surrounded by the round walls of the tea cup, where you can hide from the world and share some poolside drinks with friends or people you'd like to make your friends.
And then, of course, we have to get to the standard items you'd actually EXPECT to find at a hotel, the Restaurant, Lounge and Bar areas. Now although you expect to HAVE them there, you're not really expecting what you're going to find, so expect the unexpected when it comes to our wining and dining areas. All you need to know is that these areas are social and relaxed and you can forget about the china tea cups, we're way past that.
Fire & Ice Hotel
Hotel Attractions
What's Hot
From Abseiling to Windsurfing, we provide almost the full alphabetical range of activities (if anyone can think of an activity starting with Z, please let us know and we'll source it and add it to our selection of activities on offer.)
Just to give you an idea of the activities you can take part in in the Mother City, let's start with the fact that we have an ocean on our doorstep, so that provides for: Surfing, Swimming, Windsurfing, Kite Surfing (don't forget we also have fabulously strong winds), Wakeboarding, Jet Skiing, Scuba Diving, Shark Cage Diving. (For the less adventurous, having an ocean also means having a beach, so sun-tanning is always a fabulous activity in Cape Town).
Moving along, we also have a mountain (a fabulously large one), which brings the following activities to you: Mountain Climbing, Hiking, Mountain Biking, Abseiling, Paragliding, Hang-gliding and, of course, Sight-seeing.
Then, as do most major cities, we have roads on which to run or cycle. The thing that makes us different from most major cities is the fact that the scenery we can offer during your run or cycle is hard to beat. Make a trip over the hill towards Bantry Bay and you'll see what we're talking about.
Of course, not all activities in the area cater only to the extremely energetic. Kirstenbosch Botanical Gardens provides an awesome backdrop to a picnic lunch, whilst Township Tours will bring you closer to learning about the South African and Capetonian cultures.
Fire & Ice Hotel
Hotel Location
Ok, let's get the boring stuff out of the way. If you want the address for theFire & Ice Hotel Cape Town, look left. If you want the GPS co-ordinates for the hotel, they are:
33'55" 37.36S
18'24" 41.01E
Now that that is out of the way, let's get into what really makes us the best location around. Fire & Ice Hotel Cape Town is situated on the base of Table Mountain. If you woke up one morning with an urge to climb more than just our climbing wall, you wouldn't even need to take a taxi anywhere; you can start climbing almost immediately after you've left the hotel. (For those who prefer to take in the amazing views from the top of Table Mountain without expending too much energy, the Cable Car Station is literally 3km away from the hotel entrance.)
Then, there's the V&A Waterfront, a desired location for both the locals and foreigners. Let's not go into too much detail about the V&A Waterfront now - EVERYBODY knows it, right?
Of course, distance from the airport is also one of those things that can make or break a location. Too far from the airport and people worry about missing flights, etc. Too near to the airport, people need earplugs. Well, don't worry about either ... Fire & Ice Hotel Cape Town is 25km from the airport, not too close, but plenty close enough.
Now, if you enjoy great food, the selection of the most happening restaurants in the immediate vicinity of the hotel is astounding. Although we can't list them all, you may want to check out a few of our favourites, including:
Our location also brings the nightlife to you, but with so many great clubs and bars nearby, we'd get tired listing them. Our STAFF are all in the know, so you can put them to the test and let them name the best nightspot for you.
Wow, the saying "Location, Location, Location" was invented for a reason, wasn't it? Our location brings to mind so many great places of interest and fun that we may have missed some, like the fact that Clifton and Camps Bay beaches (Cape Town's famous hot-bod-spots) are only a few kilometers away.
Whatever it is you're looking for in a holiday getaway, or a business trip, Fire & Ice Hotel Cape Town is sure to provide it. (For you business people reading this, we're right at the top of the CBD, so business is made easier and quicker, letting you get back to the hotel and turn business into leisure time.)
But, the best way to learn more about a location is to visit and experience the area for yourself ... We look forward to welcoming you to the Mother City, Cape Town