Protea Hotel Franschhoek

Franschhoek, Cape Town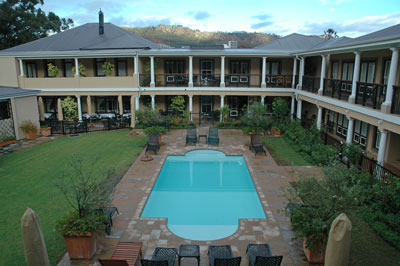 The Protea Hotel Franschhoek overlooks the majestic mountains and famous vineyards of the historical village of Franschhoek, some 80 km east of Cape Town and prides itself on its charming ambiance, gracious style and attentive service. Indeed, if you are looking for tranquillity and beauty, you will find it at the Protea Hotel Franschhoek.
The hotel has a rich history, with one section dating back to the 1880s. The town itself takes its name from the French Huguenots who settled here in the early 1820s after fleeing from their home country. Franschhoek has since become one of South Africa's leading culinary and wine-tasting destinations.
Protea Hotel Franschhoek offers a restaurant, conference facilities, luxury accommodation, a sparkling swimming pool and well-stocked vinotique. Our convenient location make it a superb base from which to explore Franschhoek's culinary reputation, art galleries, cheese factories and some 25 wine estates. Various outdoor activities, such as horse-riding, golf, backpacking and trout-fishing, can also be arranged.
Our slogan - The pride of Franschhoek - comes from the exquisite and rare creamy pink flowers of the same name, which are only found in the Franschhoek mountains.
Protea Hotel Franschhoek
Hotel Rooms
The Protea Hotel Franschhoek offers 30 spacious en-suite rooms, comprising:
2 Colonial Queen Rooms
5 Colonial Suites
20 Pool Suites
2 Luxury Pool Suites and
1 Deluxe Suite
Single, double and family options are also available.
All rooms are equipped with:
Television
Dual voltage sockets (110/240 V)
A bar fridge
A direct telephone number facility
Air-conditioning.
Although no two rooms or suites are identical at Protea Hotel Franschhoek, all are tastefully decorated to make your stay special, welcoming and comfortable.
Protea Hotel Franschhoek
Hotel Facilities
The Protea Hotel Franschhoek is a full-service hotel with an outstanding restaurant, well-stocked vinotique, excellent conference facilities for up to 50 people, tasteful accommodation, an open-air terrace and inviting swimming pool.
Protea Hotel Franschhoek
Restaurant
The cozy restaurant offers an elegant dining atmosphere and a superb blend of classical and contemporary cuisine. The pool area and terrace can also be used for lunches and receptions.
Vinotique
The well-stocked vinotique offers a fine selection of South African and international wines - with the strongest focus on wines from the world-famous Cape wine region. The Vinotique also has a cellar-type wine storage area in which Cape wine producers are able to keep their own wines in individually demarcated bins. This facility, and the conditions of its licence, enables the hotel to sell wines by the case, the bottle or by the glass, and to organise regular wine tastings. Ask our experienced sommelier to tell you more about our wines or to recommend suitable wines for your dinner table.
Swimming pool
An inviting swimming pool forms the focal point of the courtyard. This is the place to be if you want to have a refreshing swim, laze around the pool or enjoy cocktails or lunch on the patio.
Conferences and events
We have the venues, catering services and overall infrastructure to host your company's conferences, break-away sessions and teambuilding efforts in rooms equipped with new-technology audio-visual equipment. We also cater for special occasions and family celebrations. Up to 50 people can be accommodated and various leisure activities can also be included. Packages can be customised to include accommodation, meals and various leisure activities.
Other facilities at Protea Hotel Franschhoek include:
Parking area - A secure, off-street parking area offers safe and ample parking for your vehicle during your stay with us
Reception Desk - Open 24 hours per day for bookings, information, hall porters and various other services. Our STAFF are knowledgeable, friendly and efficient
Room service - Our room service menu offers a fine selection of dishes which can be ordered from 07:00 - 22:00 daily
Security - Your security as well as the security of your property is very important to us, which is why we use advanced security systems and have security STAFF on duty
Luggage unpacking and packing service - We will gladly unpack and pack your luggage for you so that you can enjoy your stay even more. Simply phone the Reception Desk to arrange this
Laundry services - We offer laundry services for all items of clothing, including clothing with special-care instructions
Car hire - Contact our Reception Desk to make arrangements
Doctor on call - Please contact the Reception Desk should you require medical assistance.
Protea Hotel Franschhoek Hotel Attractions
Protea Hotel Franschhoek's central location makes it the ideal base from where to explore the town's culinary reputation, art galleries, cheese factories and more than 20 wine estates. Various outdoor activities, such as horse-riding, golf, backpacking and trout-fishing, can also be arranged.
Golf
Horse riding
Trout fishing
Hiking trails
Eating out
Wine routes
Cheese factories
Art galleries
Shopping
Protea Hotel Franschhoek
Hotel Location
The Protea Hotel Franschhoek is situated in Huguenot Street in Franschhoek.
Directions from Cape Town Airport:
(45 minutes' drive)
From the Cape Town International Airport, take the Borchards Quarry turnoff (M22) towards Bellville and the N1
From the the Borchards Quarry turnoff (M22), turn right into Modderdam Road (M10)
From Modderdam Road (M10), at the first set of traffic lights, turn right into Stellenbosch Road (M12)
From Stellenbosch Road (M12), turn left onto the R300
From the R300, turn right onto the N1 dual road (eastward direction, towards Paarl)
Continue for a quite a distance on the N1 until you reach Exit 47 and a sign which says "R44 / R103 Stellenbosch, Klapmuts, Wellington" - Turn right
Continue along this road for about 400 metres and, at the 4-way stop street, carry straight on
Continue until you see a sign which says "Franschhoek" and turn left
Continue for about 9 km until you reach a T-junction
Turn right at the T-junction and follow the road to Franschhoek.
Info from Franschhoek Inn (Protea Hotels) website