PROTEA HOTEL VICTORIA JUNCTION

Victoria & Alfred Waterfront, Cape Town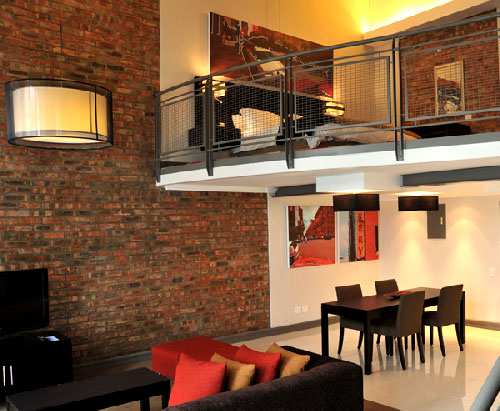 Situated on the fringe of the Victoria & Alfred Waterfront, the Protea Hotel Victoria Junction is designed for the cosmopolitan traveller with a taste for the cutting edge. One of its kind in Africa, this uniquely styled hotel offers a combination of standard rooms and double-storey loft apartments.
Its ultra modern facade and interior is specially styled to suit the vibrant atmosphere of its surroundings and to give the impression of understated sophistication and elegance. As exciting and different as the Mother City herself, the Protea Hotel Victoria Junction offers a creative addition to the high standards of quality demanded by its premier status.
Hotel Rooms
The Protea Hotel Victoria Junction comprises 172 rooms, which are divided between 148 standard rooms (72 twins and 76 doubles), 24 loft apartments (with optional self-catering kitchenettes) and 2 rooms for the disabled. All twin rooms are interconnected with double rooms.
Every room is equipped with extra-length beds, compact executive desks fitted with laptop and fax modem power points. Each room has individual tea/coffee making facilities and is styled and fitted with every creature comfort the sophisticated traveller could desire, including new, crisp white duvets for extra comfort and FRESHNESS and high-speed internet access, supplied by DATAPRO.
The loft apartments, comprising an upstairs mezzanine bedroom with en-suite bathroom and GUEST lounge downstairs, all have brand new furniture and La Vazza coffee and espresso machine. Every loft has a hi-fi system fitted with compact cd player and electronic exercise bicycle.
Hotel Facilities
The Protea Hotel Victoria Junction's restaurant and bar, coffee shop and lounges have been modelled on an authentic movie set and comprise the following "stages", with high-speed internet access by using 'hotspots' in various areas:
The Set restaurant
Serves a delicious buffet breakfast between 06:30 and 10:30, a la carte lunches and dinner in modern stainless steel, brick and marble-topped surroundings staged underneath genuine parcam lights and movie cameras.
The "Out of Africa" lounge set, based on a Kenyan gentleman`s cigar lounge, is set in the plains of the Masai Mara and is the perfect place to relax after a day of exploring the Mother City, or to meet and converse with friends, family and colleagues alike.
The Beach House, a uniquely conceptualised 'Californian-style' beach house coffee bar, is designed to add yet another 'theme' to the public area of the hotel. This is a simple yet classy, relaxed yet sophisticated beach house coffee bar, with its own delectable menu specialising in a range of salads, pastas, fresh seafood, healthy sandwiches and wraps. With a beautifully designed fireplace for those cold winter nights and a tempting cocktail menu to quench your thirst in the heat of a summer - this is most certainly a theme to be seen!
Conference facilities:
The conference facilities consist of 2 modern workshops equipped with state of the art lighting and audio-visual equipment. Each workshop can accommodate 60 delegates in classroom style and is divided by a soundproof partition which is fully retractable. The total capacity of both rooms together can hold up to 120 delegates classroom style, or 150 cinema style, suitably decorated for conferences and product launches. Conference rooms are now equipped with ISDN lines.
Sporting Facilities:
Modelled on the Paramount Hotel in New York, the Protea Hotel Victoria Junction`s lap pool and deck is an amazing place to soak up some sun rays and relax with an ice cold daiquiri.
Two Fitness and Sports clubs are situated within walking distance of the hotel and offer sports enthusiasts squash, tennis, swimming, bowls and state of the art gym equipment.
Aquacycle Tours - The Protea Hotel Victoria Junction also offers an in-house transfer company. Enjoy tours of breathtaking beauty which include: Cape Point and the Peninsula, Winelands Tour, West Coast, Langebaan and many more. In addition, Aquacycle offers transfers to and from Cape Town International Airport, the City Centre, Table Mountain and the V&A Waterfront.
Nearby golf courses include The Metropolitan golf course (3km from the hotel) and the famous Royal Cape golf club (5km from hotel).
Hotel Attractions
Situated within the Victoria Junction complex and surrounding areas are a selection of upmarket, trend-setting restaurants and bars.
The Victoria & Alfred Waterfront boasts an array of designer clothing shops, novelty gift shops, 2 craft shops, 2 craft markets, 16 cinemas, the Two Oceans Aquarium, as well as over 20 restaurants, cocktail and coffee bars.
Several theatres situated within close proximity to the hotel offer a wide range of international and local productions including David Kramer, Pieter Dirk Uys and Barry Hilton.
5km from Cape Town`s famous "Arts and Crafts" market on Greenmarket Square, which offers tourist curios, novelty gifts, clothing and an assortment of music cds, candles and live entertainment performed by various street artists.
Close to all cultural and history museums, including SA National Art Gallery, National Rose Gardens, Planetarium and Cape of Good Hope Castle.
Situated near to vibrant city nightlife and clubs.
Hotel Location
Situated on the fringe of the Victoria & Alfred Waterfront and close to the CBD, the hotel is perfectly located for business and leisure.
Distance from:
Waterfront
: 1km
Table Mountain
: 5km
Winelands
: 45km (Stellenbosch)
: 60km (Paarl, Franschoek)

Clifton / Camps Bay
: 10km
N1 & N2 Highway onramp
: 1km
CBD
: 1km
CT International Airport
: 20km
Situated in the upmarket area of Green Point and bordering on the Waterfront, the Protea Hotel Victoria Junction is surrounded by avant garde restaurants and shops whilst still being able to boast magnificent views of Table Mountain and the Victoria & Alfred Waterfront and harbour.