Protea Hotel Knysna Quays

Knysna Lagoon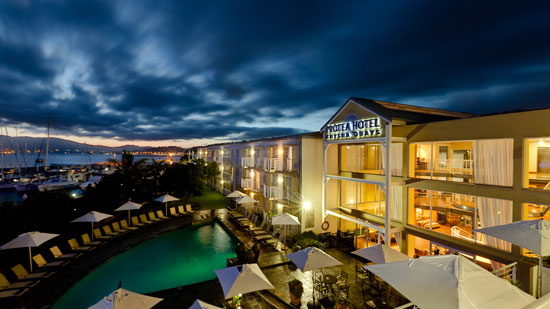 Situated on one of the best hotel sites in Southern Africa, the Protea Hotel Knysna Quays enjoys a stunning outlook.
Located on the banks of the famous Knysna Lagoon and facing the sea through the Knysna Heads, this exciting hotel development is also an integral part of the vibrant Knysna Quays Waterfront, with its vast selection of restaurants, bars and speciality boutiques.
Facilities at the Protea Hotel Knysna Quays include a swimming pool with a uniquely designed wooden sun deck, individual moorings and jetties at your doorstep.
Protea Hotel Knysna Quays
Hotel Rooms
All rooms are decorated in light nautical hues and feature deluxe en-suite bathroom with separate shower, satellite TV and air-conditioning. Most rooms offer magnificent views of the lagoon and yacht basin.
Protea Hotel Knysna Quays
Hotel Facilities
Start your day on a high note with a sumptuous breakfast in our superb Breakfast Restaurant before browsing through the next door boutiques and curio shops or discovering the flea markets in Knysna`s main street.
Relax in the sun and enjoy a refreshing cocktail on the pooldeck with its sweeping views of the lagoon, or try the nearby Dry Dock Food Company or 34 Degrees South restaurants for a memorable lunch or dinner. Whatever your dining style, don`t forget to sample the delicious oysters for which Knysna is famous.
Protea Hotel Knysna Quays
Hotel Attractions
Explore the surrounding and enchanted Knysna Forest, the Featherbed Nature Reserve, the Otter Trail, Tsitsikamma National Park or the scenic Bushbuck Trail. Alternatively, join a pleasure cruise on the lagoon or go for a ride in the choo-tjoe, a genuine steam train. Sporting enthusiasts can enjoy access to the nearby squash courts, while golf lovers can select any one of the first-class golf courses in the Garden Route.
Visit one of the Knysna Quays Waterfront pubs for sundowners and, for the romantic GUEST, take a nighttime dip in the hotel`s floodlit swimming pool.
Whatever you do during your stay in Knysna, choose your perfect way to end another idyllic day at the Protea Hotel Knysna Quays.
Protea Hotel Knysna Quays
Hotel Location
Located next to the bustling Knysna Quays Waterfront, the luxurious Protea Hotel Knysna Quays introduces the discerning visitor to a world of uncluttered elegance and unrivalled comfort on the shores of the exquisite Knysna Lagoon.