SIBUYA GAME RESERVE

Sunshine Coast
Sibuya Game Reserve is a 3000 hectare, Malaria Free, Big Five reserve conveniently situated near Kenton on Sea along South Africa's Sunshine Coast, just 130 kms from Port Elizabeth and 150 kms from East London.

Uniquely, guests journey by boat from Sibuya's reception in Kenton on Sea, up the stunningly beautiful Kariega River Estuary, to our tented camps situated at the water's edge. This is an offering not matched by any other game reserve in South Africa.

The lush subtropical East Cape Valley Bushveld, Grasslands and Coastal Forests play host to one of the highest densities of wildlife on the continent ensuring one of the best game viewing experiences in Africa. Breathtaking scenery and the sight of Africa's "Big Five" viewed against an Indian Ocean backdrop complete a truly memorable experience.

Boat trips to the river mouth, Kenton's idyllic beaches and a host of other river and game reserve activities guarantee that any length of stay will be too short, and will leave you saying "Sibuya" - we will return.

Bontebok and Oribi, two of the rarest antelope species in South Africa, and a host of other animals including Elephant, Rhino, Giraffe, Buffalo and Zebra are just a few of the 40 African mammals you are likely to see. For the bird lover more than 300 bird species, including the exceptionally rare Narina Trogan, will deliver hours of pleasure. Otters and crabs frequent the river banks while seals and turtles make occassional forays upriver to the tented camps.

Professional Guides will host you for the duration of your stay while the camp staff prepare Fine Fireside Fare under a starlit sky.

Designed for the independent traveler or small group market, Sibuya offers a low impact nature experience for the ecotourist seeking personalised service, professional organisation and eco-informative activities.

Safe, comfortable and affordable, Sibuya offers an original South African Safari and Tented Camp Experience in the heart of the historic Eastern Cape.

Additional activities offered by arrangement include: Fishing (deep sea, surf, river & fly), Coastal Sightseeing Cruises, Wellness Programme incorporating Aromatherapy & Reflexology, Horse Riding, Water Skiing, Beach Hiking, Cultural and Historical Tours.
Accommodation
Forest Camp
Forest Camp
Perfectly situated on the banks of the Kariega River, but tucked unobtrusively into the indigenous bush, Forest Camp offers a blend of essential comforts and warm, charming style. Richly coloured local textiles, in shades of rust and burnt orange, are used throughout in support of the region's weaving community.
The camp, with its long wooden walkways through pristine thicket, has eight en suite tents, complete with luxury furnishings. Designed with a light footprint to protect the surrounding riverine environment, the camp affords views of game on both banks of the river and makes an ideal venue for weddings and small functions.
With no schedules and absolutely no pressure on guests to do anything other than relax, this wonderful camp combines the finest in safari luxury with fabulous service and truly memorable game experiences.
Sibuya's executive chef and his capable team have won rave reviews for the preparation and presentation of their cuisine. Top notch dining is an integral part of any visit to Sibuya with excellent South African wines served in the dining room, on picnics, or under a canopy of stars in the wonderful open air boma.
Forest Camp, as with River Camp, operates on a fully inclusive basis (i.e. including boat transfers and cruises, game drives, camp activities, meals and local refreshments - including beer and wine).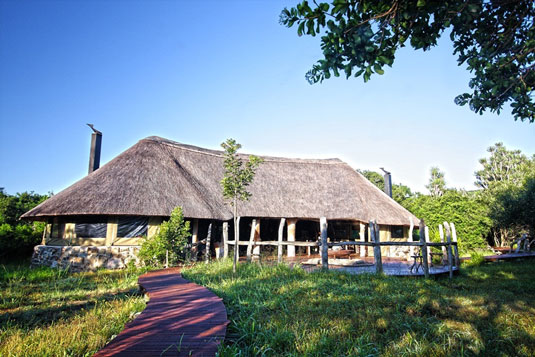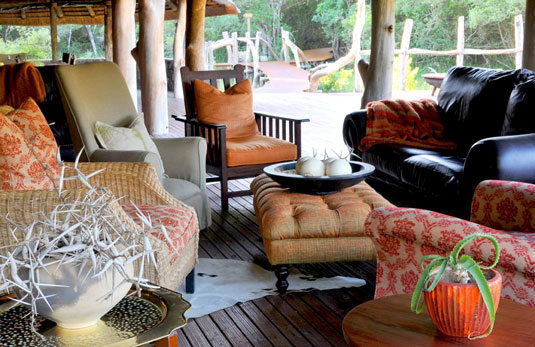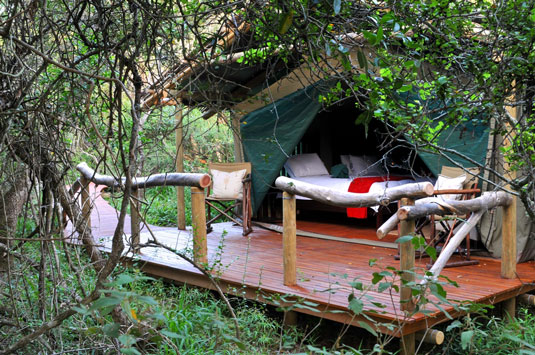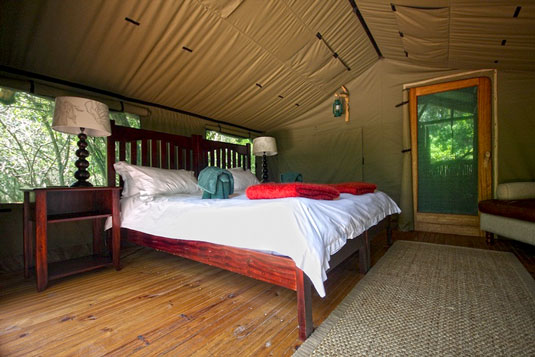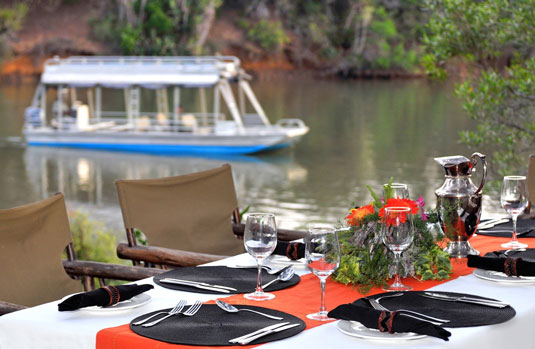 River Camp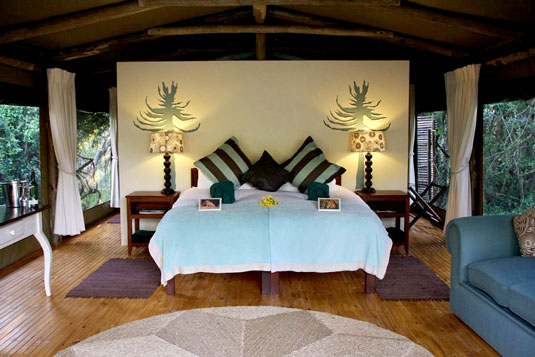 River Camp (4 double tents)
Situated on the banks of the Kariega River, this rustically luxurious tented camp will leave you with memories of a bygone era - how simple and enjoyable life used to be before all the distractions of our modern age.

All our tents, fixed on raised wooden decks, accommodate two adults sharing in one king size or two twin beds. Additional camp beds are available for young children sharing with parents. En-suite bathrooms (with hot and cold water) and mosquito netting on all doors and windows ensure that a night at Sibuya River Camp is comfortable and safe. Sibuya is Malaria Free.

The soft glow of lanterns, the water gently lapping on the boats and the sounds of the African night will be the only distractions as you reminisce in the warm embrace of the evening fire, while our friendly camp staff prepare the Finest African Fireside Cuisine.

A small intimate camp such as River Camp ensures that you are able to share the countless years of experience of our Professional Guides.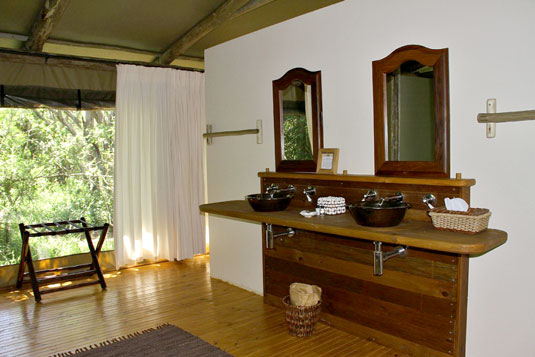 Activities...

A stay at a Sibuya River Camp includes a host of different activities

Game Drives
Game drives are normally taken in the early morning, late afternoon and after dinner. However, with small intimate camps such as ours, guests are able to arrange times to suit their requirements with their guide.

Boat Cruises
With more than 18 kms of navigable Estuary, half of which is within the Reserve, boat trips are incorporated into many of our daily activities. Most game drives will begin or end with a boat trip to a distant part of the Reserve.

Guided Walks
Experience the thrill of seeing Africa's animals on foot in the company of our Professional Guides.

Fishing
Rock, surf, river and fly fishing are all available, however guests must be in possession of a valid fishing permit (available at any Post Office).

Swimming
Swimming in the river or sea is a must on a hot summer's day. The sea temperature varies depending on the current, but generally the river is always warm (above 20 deg C).

Canoeing
Two-seater canoes are available for those wishing to experience the wonderful sounds of the African bush while silently paddling along.

Beach walks
A two or three day stay at Sibuya would not be complete without a boat trip to Kenton's idyllic beaches.

Additional activities offered by arrangement and at very reasonable rates include:
Deep sea Fishing, Offshore Sightseeing and Coastal Island Cruises, Wellness Programs incorporating Aromatherapy & Reflexology, Horse Riding, Water Skiing, Cultural, Historical and Farm Tours, Golf, Tennis, Squash and Lawn Bowls.