SANBONA WILDLIFE RESERVE

Western Cape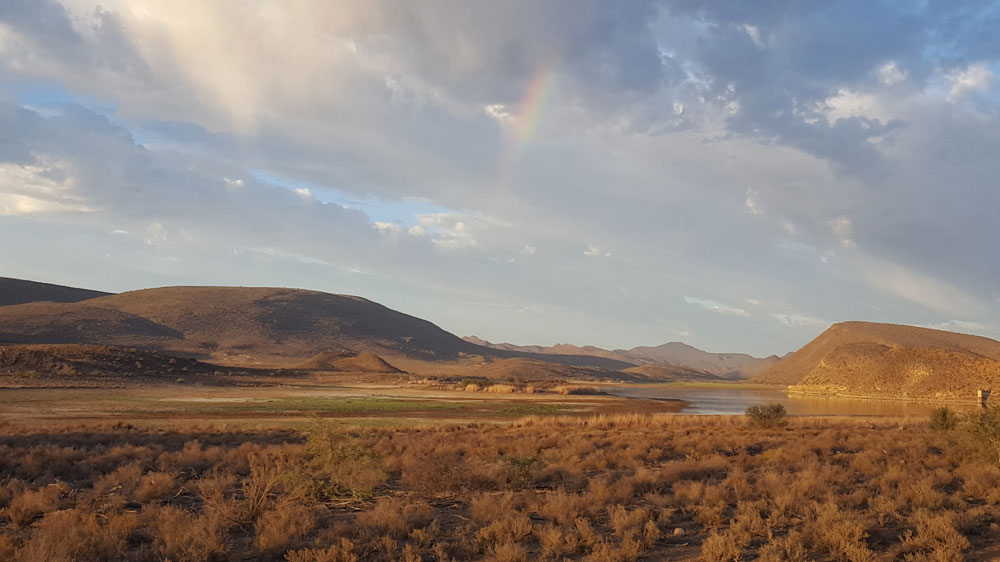 Sanbona Wildlife Reserve at the foot of the Warmwaterberg, in the heart of the Little Karoo, between Montagu and Barrydale on the famous Route 62, the vision of the San is becoming a reality. Sanbona Wildlife Reserve, 54 000 hectares of undulating mountains and plains, indigenous fauna and flora, rock formations and rock art make this a destination not to be missed. Specialist guiding is a key element in providing a memorable and varied experience. The name Sanbona is a combination of the "San" people who roamed this area for thousands of years and "bona" which represents their vision in order to position this portion of the Little Karoo. Be it a journey of rejuvenation and self-discovery or absorbing the various essences and activities, Sanbona Wildlife Reserve represents in true form the philosophy of the Mantis Collection - taking care of the small things in life.
Accommodation
(View Lodge Images below)
Dwyka Tented Lodge
Once the range of ancient Khoisan hunter-gatherers dramatically situated in a horseshoe bend of a dry Karoo ravine and surrounded by awe-inspiring rock formations. These luxurious and secluded tents exude an atmosphere of pioneering adventure in this vast landscape.
Gondwana Lodge
Gondwana Lodge offers endless views over the plains of Bellair Dam and onto Anysberg-mountains. Children of all ages will are entertained with its exciting "Kids on Safari" program.
Tilney Manor
Tilney Manor has six luxuriously appointed rooms. This exclusivity ensures that guests can experience personal service and world-class cuisine in an atmosphere of privacy and tranquillity.
Sanbona Explorer Camp
This unique walking experience is ideal for Guests looking for an adventurous & authentic option offering an ambience of a Tented Bush Camp. The Camp is located in a superbly shaded river line, north east of the Reserve.
Kids on Safari at Sanbona
Gondwana Family Lodge resembling a typical thatched Karoo homestead with family rooms, children activity room, spacious lawn, outdoor play area, and pool will ensure entertainment for the whole family.

Upon arrival, your hosts will discus activity options for your family taking the family's size, children's ages and the weather into consideration. Child minding facilities are available at an additional cost for children younger than 4 years as they are too young to join game drives.
Outdoor Activities
Interpretive trail through the garden of Gondwana learning about animals that occur on the reserve as well as tracks, important plants etc
Visit the sites where the San people left their legacy on the rock faces at Sanbona, where the ranger will interpret the scene so that the children can create their own 'rock' art
Sanbona Activity Book is educational and fun, teaching children about the wildlife at Sanbona and at the same time encouraging children to get involved in the game drives, often requiring the ranger's assistance to answer some of the questions
Children can partake in various social, sporting and art activities such as bead making, clay making activities, face painting, star gazing
Indoor Activities
Scrap books, paper, scissors, glue crayons, pencils & paints
Puzzles of varying sizes and difficulties covering a broad age range
Documentary DVD's on various conservation topics and animals, animated movies
A selection of entertaining and educational children's books
A selection of fun board games
Special Notes
Children younger than 4 years are not permitted on game drives
Child minding is done by lodge staff and can be arranged with reservation prior to arrival at an additional cost
All swimming activities must be supervised by parents at all times
All children activities are age and weather dependant
REGIONAL INFO AND ROUTE 62
Magnificent views, panoramic landscapes and towering cliffs, streams and the abundance of trees and indigenous flora, all contribute to making the Breede River Valley one of the Western Cape's most diverse regions. The ever-changing colours of our majestic mountains, scenic passes, rivers, vineyards and orchards as well as the multitude of attractions, will offer you an unforgettable adventure, whether this is in the physical sense or simply a kaleidoscope of scenic experiences.
Innovation and pride, combined with a terrain and mild climate that are harmoniously balanced, result in the prominence of our region's wines. The R62 Route which links the Breede River Valley and Klein Karoo, will take you along the longest wine route in the world.
The easily accessible towns, nestled among the Valleys, all offer ample opportunity for discovery. From visits to wineries and game reserves, art and cultural tours, museums, hiking trails and mountain climbing, 4x4 routes and canoeing expeditions, even riding the worlds largest birds, fishing and caves. You can unwind in one of the invigorating hot-springs, revel in luxury or relax in rustic tranquility.
We look forward to sharing the unexpected pleasures of the Breede River Valley and Route 62 with you.
ABOUT US
The name Sanbona, a combination of the "San" people, who occupied the area 100 years ago and "bona"representing their vision have been combined to position this 54 000 ha little Karoo property. The sheer expanse of the open valleys, 650 plant species, 160 bird species, rock faces, rock art and variety of wildlife make this a destination not to be missed.
The sheer expanse and stark beauty of the Reserve gives one a sense of humbleness, the realization of the inconsequentialities of life, a temporary release of the daily stresses of everyday living and could be a deemed a profound spiritual experience. Sanbona Wildlife Reserve allows one to be at peace, allowing one to curl up with a book, seeking solitude and introspection.
Dwyka Tented Lodge

Gondwana Lodge

Tilney Manor

Sanbona Explorer Camp