Cape Grace Hotel

Victoria & Alfred Waterfront, Cape Town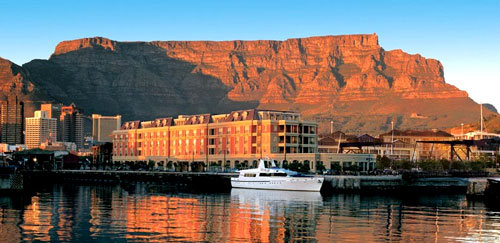 With a classically inspired exterior and gracefully elegant within, Cape Grace is set on its own private quay on Cape Town's vibrant Victoria & Alfred Waterfront. Cape Grace's charm lies in its intimate atmosphere, stylish décor and unique personalised hospitality, where you will find staff warm and flexible, with a spirit of unrivalled generosity.
When Charles Brand, his wife Beth and parents Chippy and Cynthia opened the doors of Cape Grace to the world in December 1996, their vision was a hotel that felt more like a good friend's home. In an understated way the décor and environment needed to reflect its 5-star aspirations. But, more importantly, staff needed to relate to guests as personal hosts, with warmth and a sense of comfort in their own individuality.
At every level there is complete trust in the idea that if everyone is the best they can individually be, all else will follow.
Rooms and Suites
Standard Features
A series of comfortable spaces, all 122 guest rooms and suites feature exquisite furniture, luxurious fabric and intriguing detail, providing an immediate sense of place.
Double-glazed French doors in all guest rooms open to beautiful views of the international yacht marina, Table Mountain or Waterfront harbour. Elegant in style and generous in size, the overall tone is warm and inviting, with care and consideration given to making guest rooms as comfortable and relaxing as possible.
Standard Features for all rooms and suites:
French doors with views of the yacht marina or harbour
Fresh flowers and personally selected books
Charlotte Rhys toiletries, velour robes and slippers
Fully stocked mini bar with Melissa's mini deli snacks
Complimentary tea and coffee tray with fresh milk delivered every morning
Select satellite television channels and radio stations
International plug points, fax/modem line and high speed Internet access
Private room safe
Separate bath, shower and toilet
Irons and ironing boards

Extra Features for the following rooms and suites:
Luxury room
Room size: 45 m²/ 484 ft²
Reading area
Superior room
Room size: 50 m²/ 538 ft²
French doors opening to a balcony
Balcony size: 8.5 m²/ 91 ft²
Dressing room
Spacious living area with a fold-away sofa bed for children
Rooftop / Loft Luxury room
Room size: 35 m²/ 376 ft²
French doors opening to a breakfast patio
Patio size: 3.5 m²/ 38 ft²
Reading area
Highest floor, loft venue
Dressing room
Rooftop / Loft Terrace room
Room size: 35 m²/ 376 ft²
French doors opening to a spacious balcony
Balcony size: 10 m²/ 108 ft²
Spacious living and reading area
Highest floor, loft venue
Dressing area
1 bedroom suite
Room size: 90 m²/ 967 ft²
Large balcony with dining area
Balcony size: 28.5 m²/307 ft²
Separate lounge and dining area
CD sound system and DVD machine
2 bedroom suite
Room size: 150 m²/ 1614 ft²
Large balcony with dining area
Balcony size: 13 m²/ 140 ft²
2 separate guest rooms with private entrances
Fully equipped kitchen
Separate lounge and dining area
CD sound system and DVD machine
3 bedroom suite
Room size: 200 m²/ 2150 ft²
Large balcony with dining area
Balcony size: 28.5 m²/307 ft²
3 separate guest rooms with private entrances
Fully equipped kitchen
Separate lounge and dining area
CD sound system & DVD machine
Penthouse suite
Room size: 80 m²/ 860 ft²
Outdoor terrace with private Jacuzzi and dining area
Terrace size: 45 m²/ 484 ft²
Highest floor, private loft venue
Spacious lounge and dining area
Spacious walk-in closet
CD sound system and DVD machine
Complimentary port, sherry, whisky and cognac
Unpacking service on arrival
Express press service
Canapés served at 18h00 daily
Personalised meal planning with Executive Chef
Info from Cape Grace website